Holiday Table Décor
Let's be honest, the real excitement during the holidays is decorating. It is the little details that truly make the holidays something worth remembering. If you are planning a holiday gathering and want to impress your guests, why not add some festive fun this year by focusing on decorating your dinner table. This way, you can add a creative touch to such a special day.
If you're short for time or are not sure which colours match best, then check out the tips and tricks outlined below!
Themes:
Winter Wonderland
Create your very own Winter Wonderland by having all white table settings; ie. plates, napkins, table cloth, and complement this elegant colour selection with pops of silver and light blues.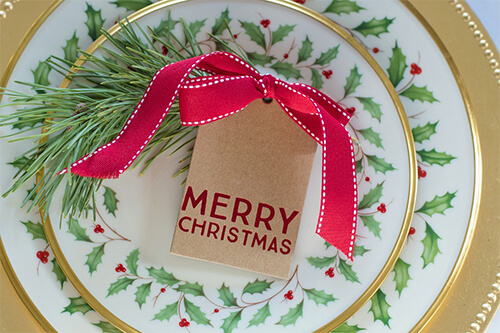 Pops of Plaid
There is something about plaid that puts you in a cozy Christmas mood. Plaid is such a popular holiday pattern that will be sure give your dining space texture, colour and warmth.
Wood Work
Escape to the countryside without actually leaving the comfort of your own home. Achieve a rustic – cottage atmosphere by incorporating pinecones, decorative wooden logs to throw along the ends of the table, or lanterns instead of elegant candle sticks. Another creative option is to place a 2D wood cylinder as the plate base.
Centerpieces:
Ornaments in a vase
It doesn't get any easier than sticking a variety of monochromatic or coloured ornaments into a tall flower vase to match the rest of the décor. This little trick makes a difference appearance wise, and requires zero effort. If you have a theme in mind for the rest of the house, ensure the colour of the ornaments do complement the room.
Garland Centerpiece
Bring in the fresh scent of pine trees by wrapping Christmas garland along the center of your dinner table. The lush greenery will easily brighten up the room and saves you money on buying flowers. Add some sparkle by adding battery operated white lights to the garland, this is another way garland can bring your home space to life. You can also hang miniature ornaments from it and create a masterpiece that otherwise gets left bare.
Floating Candle
Light up the room with a chic floating candle bowl. Using a crystal bowl adds a beautiful effect while the flame of the candles flicker around the room. Simply, fill a bowl with water halfway, drop in a small floating candle, and accessorize with Holly leaves. Yummi Candles delivers and offers miniature floating candles in a variety of colours and sizes.
Name Tags:
Elegance is bliss! Setting up name tags around the dinner table is a cute way to keep everything (and everyone) organized. This is a good idea if you are hosting a small party/ get together. Also, don't forget the glass tags. This keeps people from taking the wrong glass of wine or bubbly.
Let's Hang
Personalize your holiday table by engraving everyone's name on an ornament, while also giving your guests an adorable souvenir to take home and hang on their tree. There are many affordable custom ornament shops available, including, Personalization Mall and Things Remembered.
Present Time
Wrap a small box and write everyone name on it to appear as though Santa came for a visit, and place the present on everyone's assigned seat. This also can contain their ornament to take home.
Fits Like a Glove
Utilize tiny Christmas stockings by placing cutlery inside the pockets to keep them bundled up and secure on the table. For a custom fit write each guests name atop the stocking!
Celebrate the holidays Regal Crest Homes style and decorate the perfect dining table by following these tabletop ideas.
Don't forget to visit our Observatory Hill Model Homes located at 225 Hillsview Drive, Richmond Hill, Ontario. For more information about our current and upcoming communities, visit our website at https://www.regalcresthomes.com/
---